Services
NATUROPATHIC MEDICINE
Dr. Aviad Elgez ND
Dr. Winnie Sui ND
SENSITIVITY TESTING
There are many bioresonance machines for sensitivity testing. We use the best, newest, and most advanced machine called the Sensitiv Imago-535.
Sensitiv Imago-535
The Sensitiv Imago-535 is the latest non-invasive machine, created to simplify diagnostic and treatment of illnesses. Bioresonance is the medicine of the future – a non-invasive and reliable solution to detect any changes in the body on a cellular level in early states of an illness, before major pathological changes occur. The machine combines latest technology with diagnostic accuracy – up to 97%.
The Sensitiv Imago-535 is a business class model with FDA registration in Canada and the US. It is designed for non-invasive bioresonance examination and renewal of body health. The machine accurately detects illnesses in a patient's body and recommends effective treatments. This type of therapy is safe and gentle, making it suitable for babies, children, or even sensitive patients.
This machine allows us to identify:
The weakest organs and body systems
Occurrence and activity of pathological processes
Presence and activity of bacteria, parasites, and viruses
Environmental and food sensitivities: candida, yeast, mold, heavy metal, and chemical toxicity
Nutritional deficiencies
How It Works
Bioenergy resonance or bioresonance is the field of energetic medicine that detects and analyzes electromagnetic frequency information generated by the body.
Our body cells emit tiny electrical impulse signals that transmit information to neighbouring cells. These impulses create oscillation patterns, which differ depending on a person's health. Oscillations from cells burdened with foreign substances, such as bacteria and toxins, have different patterns than those of healthy cells. Unhealthy or damaged cells emit distorted signals, which are measured via electrodes held by a patient. Finally, a molecular absorption circuit inside the bioresonance machine filters the distorted signal part of the signal.
Bioresonance simulates body self-healing, without any side effects, an is the next revolutionary advancement in healthcare.
Advances in Equipment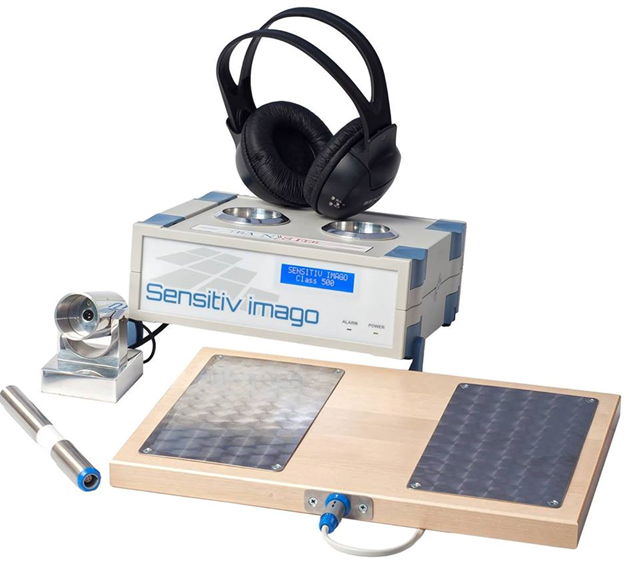 Sensitiv Imago is a unique diagnostic and health-improving machine. It is used for computer diagnostics of human health. Unlike any other devices, it applies a number of innovative methods and tests to diagnose patients, including the state-frequency wave imprinting test, the bio-magnetic resonance method, and the bio-impedance method. These methods enable us to diagnose and treat illnesses with very high accuracy and restore proper function of organs and systems.
ION FOOT DETOX
Purpose of a Foot Detox
Foot detoxes are becoming a more popular way to rid the body of any toxins. Potential toxins can range from impurities in the air, to chemicals in your home and beauty products.
How It Works
An ionic foot detox extracts toxins from your body through your feet. The ions in the foot bath water bind to any heavy metals and toxins in your body and remove them; similar to how a magnet works.
Benefits
Removes heavy metals and toxins
Clears skin complexion
Feel more energetic
Improve your sleep
Activates the lymphatic system
Improves blood circulation
Boosts immune system
Relieves arthritis pain
The ionic foot detox is intended to support herbal, homeopathic, and vitamin detoxification procedures.
SKIN CARE TREATMENTS
Glycolic AHA Peel
The Glycolic AHA Peel is great for treating:
Wrinkles
Oily skin
Large pores
Acne pigmentation
Scars
Brown spots
Damaged caused by smoking
This peel also helps to stimulate your skin's natural renewal processes, including collagen and elastin production, to help keep your skin looking clear.
Green Peel (Herbal Peeling)
$150 each
$360 – package of 3 (SAVE $90)
The Herbal Peeling treatment (Green Peel) helps people with various skin problems to get a clear and even skin. This peel is a mixture of several herbs, containing enzymes, minerals, and vitamins, which are massaged into the skin.
Green Peel is great for treating:
Large pores
Seborrheic dermatitis
Sebum cysts
Post-acne marks
Scars
Sun damaged skin
Hyperpigmentation (some forms)
Wrinkles
Sagging skin
Radio-Frequency (RF) – Skin Tightening and Lifting
$85 each – face and neck lift (1 hour)
$375 – package of 5 treatments (SAVE $50)
RF is a non-surgical cosmetic treatment that is used to counteract the effects of aging, such as wrinkles and sagging skin around the eyes and neck. Instead of surgical techniques, RF uses electrodes.
Needle-Free Mesotherapy – Skin Tightening and Rejuvenation
$150 each – face, neck, and décolleté (1 hour)
$600 – package of 5 treatments (SAVE $150)
Needle-free monotherapy is the most effective clinical treatment, exclusive for SPAs. It uses innovative technology based on the principles of electroporation and electro-osmosis. Homeopathic medicines, vitamins, minerals, hyaluronic acid, collagen, and amino acids are delivered directly into the mesoderm, that are specific to the condition being treated. This treatment is a non-invasive and painless alternative to micro-injection that has no side effects or recovery time.
Needle-free mesotherapy is used to provide:
Anti-aging benefits and wrinkle removal
Biological face-lift and moisturizing capture
Whitening hyperpigmentation
Rejuvenation of hands
INJECTIONS
Botox/Dysport
Botox/Dysport is great for treating:
Wrinkles
Facial slimming
Excessive sweating
Fillers – STYLAGE/VIVACY
$270 – half syringe
$420+ – full syringe
Laboratories VIVACY is a French company that specializes in aesthetic and anti-aging medicine and has over 15 years of experience. They have developed STYLAGE – a range of biodegradable rejuvenation dermal fillers based on hyaluronic acid and antioxidants. The STYLAGE range is composed of products intended to treat all types of wrinkles for a global and personalized treatment of the face, neck, and hands.
Platelets Rich Plasma
$350 – vampire facial
$900 – package of 3 treatments
Platelets rich plasma is a safe and natural technique used for:
Visible improvements of skin texture
Increased skin luminescence
Reduction of wrinkles, fine lines, and dark circles
Treating hair loss (Alopecia)
Treating acne scars and stretch
All injections provided by our Registered Nurse (BScN). She has over 10 years of experience. She is very passionate about combining her medical experience, knowledge, and artistic vision with her beauty enhancing skills.